Family is arguably one of the most important influences in a child's life. A family is there from the first moments of life, and children depend on parents to protect and provide for them. Parents and family form a child's first relationships. These relationships teach and prepare a child for the experiences the life ahead of them will bring. Some experiences, however inevitable they may be, can not be prepared for. It is in the face of these experiences that a family must rally together.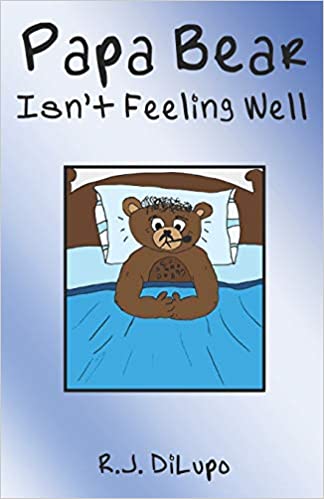 Papa-Bear, the beloved patriarch of a bear family, is called to battle against an undefeated opponent. The pillars of faith, love, and family, must stand resilient against the immense weight of panic, fear, and loss as Papa-Bear prepares to fight for his life.
Papa-Bear answers the challenge despite being untried, unprepared, and tragically outmatched. Though this challenger has never been slain, strong and weak alike have faced this destructive foe and forced its retreat. Will Papa-Bear be one of the victors?
Product Details
Author: R.J. DiLupo
Paperback: 30 pages
Publisher: R.J. Dilupo (May 9, 2020)
Language: English
ISBN-10: 1649217617
ISBN-13: 978-1649217615
Product Dimensions: 5.5 x 0.1 x 8.5 inches
Shipping Weight: 3 ounces (View shipping rates and policies)
Customer Reviews: Be the first to write a review
Amazon Best Sellers Rank: #609,845 in Books