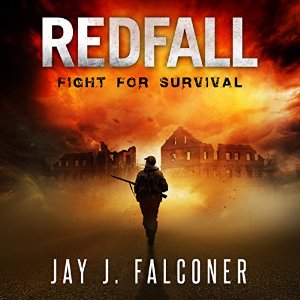 Society will collapse in days…and that's the good news.
Former special ops and survivalist Simon Redfall has lost everything: his wife, his fortune, and his future. Despite being hunted by angry mobs and his own bankrupt government, Simon arrives in Washington, DC, to attend the first ever pay-per-view execution of someone he loves.
Then red storm clouds appear and begin to spread their potentially toxic rain across the planet. The mysterious weather phenomenon grounds all travelers, knocks out communications, and threatens to take down the grid, sending civilization back to the Stone Age.
As society tumbles into chaos, Simon joins a group of like-minded preppers to unlock the secrets behind a terrifying global conspiracy. What he and his band of freedom fighters soon learn will put their lives – and the lives of everyone else on the planet – at risk.
For humanity, time is running out…. When the red rain stops falling, it will be too late to stop what's coming next.
Check Out What Readers Said about Kindle/eBook!
"I really liked this book.The author created a unique world and cause for the collapse of society.I appreciate when an author provides flawed characters trying to survive in a untenable world.I have read a lot of predictable apocalyptic fiction and was quite pleased that the author has something unique to add to the genre.The book ends with a bit of a cliffhanger which i expect with a series. Gary Tiedemann did a great job narrating the book and has a pleasant voice,which is really important when listing to an audiobook for hours.I plan on keeping this author on my radar and finishing the series.I received a copy of this book from the author in exchange for an honest review." By Karen Reese
"This book is awesome! This is the first book ive read from this author and i was completely satisfied. Very fast pace that kept you wanting to read more. I am on my way to get book 2 once i push submit.I received a copy of this book in exchange for a review" By Tyler Korgol
Product Details
Author: Jay J. Falconer
Audible Audio Edition
Kindle Price: Paperback $12.95, Audible $0.00
Listening Length: 5 hours and 49 minutes
Program Type: Audiobook
Version: Unabridged
Publisher: BookBreeze.com, LLC
Audible.com Release Date: March 11, 2016
Language: English
ASIN: B01CTDW7KG
Amazon Best Sellers Rank: #124 in Books