A Story is a Promise & The Spirit of Storytelling offers new writers a way to study and understand how popular novels, movies, and plays become successful.
A Story is a Promise offers a clear, concise look into the mechanics of how to tell a story and how a story engages and rewards the attention of an audience. Examples are used from popular books, movies, and plays, including a breakdown of Shakespeare's Romeo and Juliet, The Usual Suspects, and The Lovely Bones.
Deep Characterization explores what can happen when an authors creates characters who are an extension of the author's issues in life.
The Spirit of Storytelling focuses on how writers can transcend their personal issues when they write and give their story character fully realized internal lives. A section of the book titled Deep Characterization helps authors to realize if they've slipped into personal storytelling (meant to transport the author) in place of telling a story to an audience (with the goal of transporting the audience). A new essay titled Storytelling and the Superconscious Mind offers insights rarely offered by others.
For writers considering self-publishing, it offers great insights into how to revise a manuscript to reach its full potential.
This is the book literary agents recommend to their authors.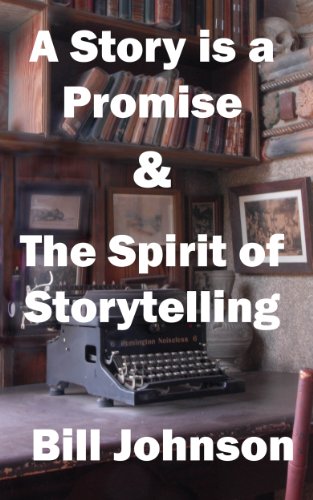 Check Out What Readers Said about Kindle/eBook!
"Wow! I've had this book (Kindle version) for some time and refer to it constantly because it has so much to offer. It's one of the few books I consider that really helped me understand what it takes to develop and write an effective and powerful story. Bill Johnson really knows how to lay it out and put it all into perspective by revealing the key elements and techniques that go into storytelling by using plenty of examples and literary references.
I only wish I'd read it before I started writing my first novel. But luckily, many things are fixable so that's what I did and it's made a big difference. Let's face it, it's a long and winding road to publication, but this is one tool you're going to need if you want to break through.
You simply can't go wrong with this book. It's a goldmine of important information you really need to know if you want to infuse your work with all the right stuff. Get it. It's all good." By A. R. Arias
"Every writer needs to read this. This lays out the foundation to great writing. Even if you have had formal training in writing there will be big ideas and key concepts you can learn and start applying right away.
I am 100% sure this book upped my game a lot. This covers everything from manuscript work to creating full stories for your characters. I loved it!" By BookReader
Product Details
Author:Bill Johnson
Kindle Price: $13.95
File Size: 1849 KB
Print Length: 314 pages
Publisher: Blue Haven; Fifth Edition edition (April 2, 2011)
Publication Date: April 2, 2011
Language: English
ASIN: B004V020N0
Text-to-Speech: Enabled
X-Ray: Not Enabled
Word Wise: Enabled
Lending: Not Enabled
Enhanced Typesetting: Enabled
Amazon Best Sellers Rank: #483,549 Paid in Kindle Store