Hundreds of thousands of people watch brokerage firm and mutual fund commercials every day without ever taking their money out of a 0.1% interest savings account. Their savings gather dust for the simple reason that they do not know how to get started with stocks. Their loss.
$10,000 earning just 8% per year over 20 years turns into almost $50,000. $10,000 in a barebones savings account would turn into $10,200. Taking money out of a useless savings account and putting it into stocks could add up to 5x as much money over time.
In Stocks for 2017, Rightpriceinvesting.com's Mike Price develops five distinct themes to explore, in an approachable way, ten trades for 2017.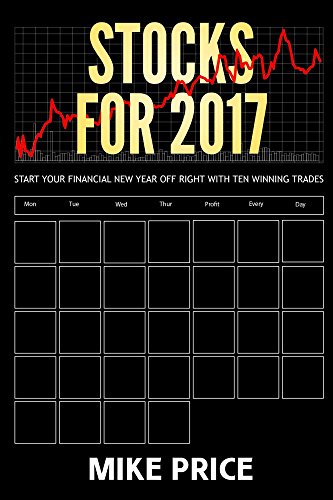 Product Details

Author: Mike Price
Price: $7.99
File Size: 1379 KB
Print Length: 65 pages
Simultaneous Device Usage: Unlimited
Publication Date: January 14, 2017
Language: English
ASIN: B01N9RKTP7
Text-to-Speech: Enabled
X-Ray: Not Enabled
Word Wise: Enabled
Lending: Not Enabled
Enhanced Typesetting: Enabled
Amazon Best Sellers Rank: #5,884 Free in Kindle Store