The series begins with Book 1, Aure the Topaz, and is the story of how the fabled elven gems of power began to be found and used after being presumed lost for so long. The gems, called the Aglaril, were once part of a magic elven crown. The crown was destroyed in an epic battle against evil and the gems scattered. Over time some were found. One, a topaz, for example, was discovered by the town jeweler of Clearbrook. He placed the gem on display during a festival celebrating a time when humans and elves collaborated more fully in the hopes of reminding everyone of the great past both races once shared.
Evan Pierce, a priest of St. Michael and demon hunter, was also in town on a tip that a gem of great value might be stolen by the necromancer he is trying to bring to justice. So when the gem is taken, he pursues the thief in the hopes of recovering it and stopping the evil wizard who wants it.
But the novel is also the story of how seven people become tied to the first gem found and end up locating the rest while protecting them against the evil forces that would use their power despite the dire consequences of doing so. These are universal characters that exist today: the adolescent who is growing up; the alcoholic wizard who is recovering and trying to lead a better life; the elven daughter who must choose between her love for a human and obeying her mother against them; the son who pursues a profession which his father disapproves.
Come immerse yourself the rich fantasy realm of Thalacia. Experience the awe and wonder of the races that inhabit it and beware of the evil that lurks nearby. Necromancers, witches, centaurs, gryphons, giants, and a host of other creatures abound. Come experience the adventure. Read Aure the Topaz today.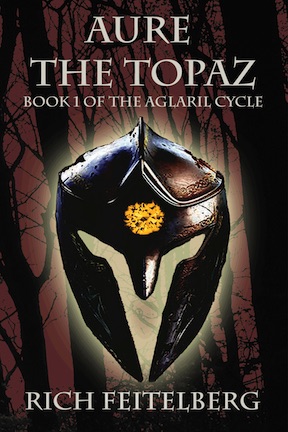 Product Details
Author : Rich Feitelberg
Publisher ‏ : ‎ CreateSpace Independent Publishing Platform (August 9, 2014)
Language ‏ : ‎ English
Paperback ‏ : ‎ 336 pages
ISBN-10 ‏ : ‎ 1456337777
ISBN-13 ‏ : ‎ 978-1456337773
Item Weight ‏ : ‎ 15.2 ounces
Dimensions ‏ : ‎ 5.5 x 0.84 x 8.5 inches
Best Sellers Rank: #2,591,571 in Books