Are you on the lookout for the best science fiction books? Have tried different books and didn't get exactly you were looking for? But this time, we've a new, interesting science fiction for you that will take you to the next level. Project: Advancement is an interesting book that brings you a fully impressive story packed with full of suspense and drama. It's worth adding to your books arsenal.
If you want to read something super awesome, give this book a try and we're pretty sure that you'll not regret later. The author Christopher Boyd brings you a masterpiece to make your reading time that much awesome.
The story is very appealing, keeping you fully intact till the end. It talks about a high-tech battle between two co-founders of a company TriVision. Claire Valentine is on the right path and continues her struggles to put an end to Isaac Blake's illegal endeavors.
Here're a few lines taken from the book's Amazon product description:
''The company TriVision has created a procedure to transform a human into a cyborg. One of TriVision's founders, Isaac Blake, is persuaded to weaponize the project and falls into a terrible well of greed and power. Now it is up to Claire Valentine, co-founder of TriVision, to put a stop to Isaac's terrible plans. To do this, she may have to create a cyborg army of her own to fight back against TriVision's legions of weaponized cyborgs.''
The Project: Advancement is an amazing book that you should consider reading to turn your boredom into a real entertainment and fun.
How you look at this science fiction book? Want to add your own thoughts to this story? Please feel free and don't hesitate to let us know your valuable feedback in the comment section below.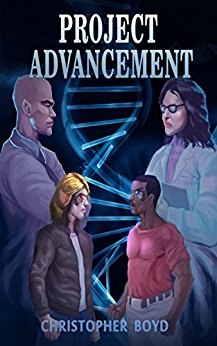 Product Details
Author: Christopher Boyd
File Size: 845 KB
Print Length: 144 pages
Publication Date: December 24, 2017
Language: English
ASIN: B078MD8C3Y
Text-to-Speech: Enabled
X-Ray: Not Enabled
Word Wise: Enabled
Lending: Not Enabled
Screen Reader: Supported
Enhanced Typesetting: Enabled
Amazon Best Sellers Rank: #170,826 Paid in Kindle Store