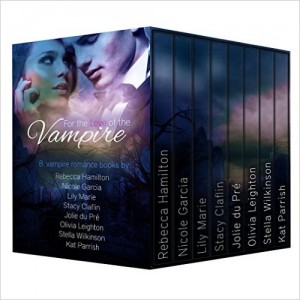 Rebecca Hamilton – Her Sweetest Downfall
Ophelia's destined to join a dark, supernatural world and protect the future of people she may never meet. But what she learns too late is that her initiation won't be complete until she kills the man she loves.
Nicole Garcia – Bitten
Born into light, made to live in darkness, Caressa strives to keep her coven safe from the Hunters. Everything was going according to plan. That was until Noah walked into Club Blood. Can Caressa deny herself the love she so desperately craves and turn away the only person capable of giving her everything she has ever wanted?
Lily Marie – Forbidden Bond
***Warning: cliffhanger ahead.***
Kat Riley, former hunter, is not enjoying her retirement. She just walked into the middle of a feud between Council vampires and a sexy half-blood vampire. Desire pulls them to each other. But can she trust the one man whose past might destroy them both?
Stacy Claflin – Fallen
Samantha has her eyes on the vampire throne, but she's been distracted with a mission among humans. Against her better judgment, she falls for a hot football player. Now she has to decide between the mortal she loves and the place of power she's always wanted.
Check Out What Readers Said about Kindle/eBook!
"This review is for Bitten by Nicole Garcia – Carissa and her coven run a nightclub so they can try to stay hidden from the Hunters who are after them. She knows they need to recruit to help them fight but it's hard to find the right people. Then she meets Noah and the attraction is instant but will she give in to what she wants?" By Sydney
"Quality writing on every page! Rebecca Hamilton weaves a complex world while focusing on the seemingly impossible romance between the heroine and a man she believes she is destined to kill. Her writing is fresh, vibrant, original. I'm downloading The Forever Girl next!" By Bama Girl
Product Details
Author: Rebecca Hamilton
Kindle Price: $0.99
File Size: 1515 KB
Print Length: 705 pages
Simultaneous Device Usage: Unlimited
Publisher: Precious Monsters (February 7, 2016)
Publication Date: February 7, 2016
Sold by: Amazon Digital Services LLC
Language: English
ASIN: B01BKUFQIE
Text-to-Speech: Enabled
X-Ray: Not Enabled
Word Wise: Enabled
Lending: Not Enabled
Enhanced Typesetting: Not Enabled
Amazon Best Sellers Rank: #1,537 Paid in Kindle Store