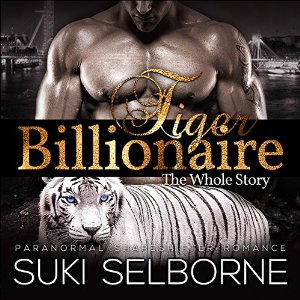 Curvy admin assistant Finola Malley is having the worst Friday night. First she breaks up with her boyfriend. Then she's called back to her London office for an overtime all-nighter. Life sucks right now.
But Finola's life is about to change forever. That night, she finds herself catapulted into terrible danger…and straight into the arms of Sebastian Chase, the hottest man she's ever met in her life, who just happens to be walking around a parking lot naked.
What she doesn't know is that handsome Sebastian is a man with a secret. He's not just the billionaire heir to a banking empire. He's also a white tiger shifter, part of an ancient magical bloodline. When Finola appears, Sebastian immediately recognizes her as his fated mate. Yet he can never allow her to get close. Not when he and his kind are facing the biggest threat they've ever known.
Someone out there has been watching Sebastian for some time. Watching and waiting. And now they're after Finola too….
Tiger Billionaire: The Whole Story is a standalone paranormal romance novel and ends with a HEA and no cliffhanger. Some characters will reappear in other books.
Check Out What Readers Said about Kindle/eBook!
"Loved the story, decided to also buy the audiobook which was my worst mistake this decade.
The narration was awful, but the story itself was great" By Alexandra Madsen
"This was a refreshing book series and I enjoyed reading it all in one day!! Miss Selborne story as very rich and entertaining about the characters of Sebastian and Fenola!! The chemistry of these two together was heartfelt and the mystery of who was after them.was what kept.me.reading!! Loved it and enjoyed reading it!!" By Rose
Product Details
Author: Suki Selborne
Audible Audio Edition
Kindle Price: $0.00
Listening Length: 9 hours and 34 minutes
Program Type: Audiobook
Version: Unabridged
Publisher: Matrioshka Books
Audible.com Release Date: March 11, 2016
Language: English
ASIN: B01CT1ZU0W
Amazon Best Sellers Rank: #649 in Books