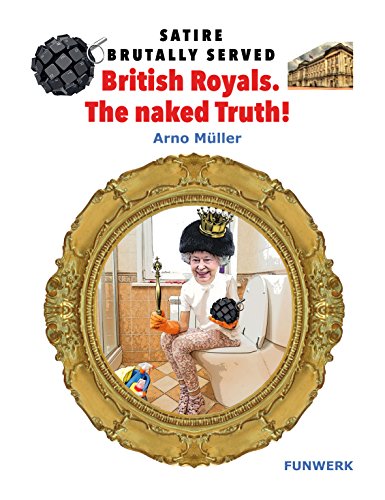 Wanting to read some interesting stuff? We are up with the latest book, British Royals. The naked Truth! The book makes a little fun of British Royals that could be amusing for many. It includes wonderful illustrations from brilliant photographers and highly talented artists, making it even more awesome.
It's a satire/humor book and being appreciated largely by the people wanting to read a real, humor stuff. It gives users a fully entertainment material to enjoy their free time. It's Arno Müller making fun of British Royals for their specific traits and behavior.
Book lovers should give it a little try to add a little fun to their lives. The idea is to amuse readers with something funny and witty. If you want to read something really interesting prior to going to bed, this is the right book for you that not only makes your free time awesome, but also allows you to have a complete look at British Royals in a stimulating way. You can also gift it to your loved ones on their special days like birthday, wedding anniversary, etc.
Those who always want to know about British Royals or have craze to read some humorous stuff should give this book a little try. You won't have any regrets buying this amazing book. It combines everything, whether you want to know about lovely Kate, Queen Elizabeth or anyone else associated with British Royal family.
Following are one of the main headings that might grab your interest – Why the permanent prince, Charles, will possibly never take the reins according to the Queen, How to Superstitiously get a free-state funeral in England, Why the poor Windsors' have no peace of mind and more.
Produktinformation
von: Arno Müller (Herausgeber)
Format: Kindle Edition
Dateigröße: 106146 KB
Verkauf durch: Amazon Media EU S.à r.l.
Sprache: Englisch
ASIN: B01LYIQLXV
Text-to-Speech (Vorlesemodus): Aktiviert
X-Ray: Nicht aktiviert
Word Wise: Nicht aktiviert
Verbesserter Schriftsatz: Nicht aktiviert
Durchschnittliche Kundenbewertung: Schreiben Sie die erste Bewertung
Amazon Bestseller-Rang: #118.472 Bezahlt in Kindle-Shop