EVERYONE I Know Wants to SPEAK Spanish!    DO YOU?
Spanish "de-mystified!
A Method that Finally Works!   And yes, NO GRAMMAR! No verb conjugations! Just imagine! FROM COVER TO COVER: Everything you Need! Research based, unique method to finally speak and understand real, frequently used Spanish.
WHY A SANDWICH?  "Sandwich Spanish" is a unique approach! The  top bread of your sandwich is to engage in the conversation and get attention, the meat is the purpose for speaking, and the bottom  is to culturally close the communication.  It is a "Sandwich of Spanish communication"! Authentic language with the right cultural exchange!

This book offers  8 TOPIC BUNDLES" of the most frequent daily scenarios, and 40 frequently used NATIVE expressions so you can pivot your way to speaking like a native speaker!  With these 40, you will be able to create Spanish that is near native as you perfect the FIVE VOWELS, and the 12 CONSONANT exceptions that are the heart of basic, natural, everyday Spanish conversation! Official Site: http://sandwichspanish.com/
Highlighting a real need for speaking Spanish, each bundle starts by electing a 'pivot', or key phrase that can be used " on call" in several, diverse settings. Then relevant "ingredients" are presented as well as cues and tips. What ultimately strengthens this entire process is the firm acquisition of the five clear vowels that always sound the same (and are the heart of any word in Spanish) and the consonants, which are mostly the same as English with only 12 exceptions. Understanding the sounds and focusing on Spanish pronunciation is key in Sandwich Spanish as it allows us to feel confident and at ease, encouraging more practice,  moving us beyond the fear of speaking.
The "topic bundles" are at the heart of Sandwich Spanish. They identify the purpose of the conversation by pinpointing the exact language need from the infinite possibilities that exist in all languages, pinpointing the most frequent language functions found in personal, social, and professional settings, such as making small talk with neighbors, dining out, and using public transportation.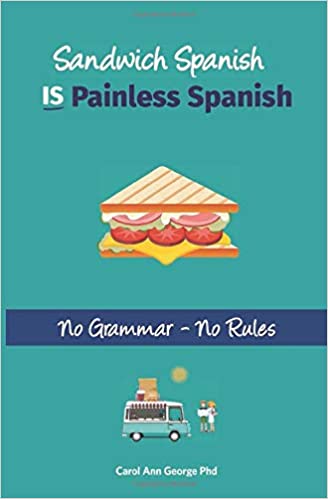 Instead of grammar rules, these topic bundles give you the most used, most common 'action forms' that are practical and easy to learn. You only learn what you need! You are not learning about the language, memorizing verb conjugations you will never use (nor remember anyway): you are learning to use Spanish that will allow you to function in diverse social settings!
If you have tried high school and college courses, online resources, apps, podcasts, videos,  etc. and still have not been able to speak well enough to carry on a conversation, this book is for you! If you have had enough of grammar, high school Spanish, and online 'quick fixes', this book is for you. If you are frustrated after many attempts at learning to speak Spanish, and are stuck at one level, this book is for you.
With this strong foundation in Spanish , you will then be able to move on and improve your level of Spanish with confidence! So, join the  many others and begin your own BILINGUAL JOURNEY!    ¡Buenas Suerte!
Product Details
Author: Carol Ann George PhD
Paperback: 137 pages
Publisher: Independently published (November 3, 2019)
Language: English
ISBN-10: 1700139207
ISBN-13: 978-1700139207
Product Dimensions: 6.9 x 0.3 x 10.5 inches
Shipping Weight: 11.8 ounces (View shipping rates and policies)
Customer Reviews: Be the first to write a review
Amazon Best Sellers Rank: #1,789,455 in Books