MD White's upcoming business guide, titled as "The influence of Military Strategies to Business" encapsulates the transcendence of military strategy into business sector. This won't be another theory based on Sun Tzu's philosophy but what could we actually learn from conventional warfare. Following, we are giving you a short context of a few ideas presented in the book.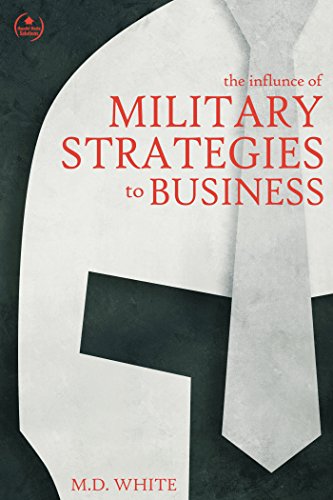 Lose Battles to Win Wars
If you are a businessman, you are making enemies no matter what you do. The hard truth is they will get the best of you at time. This shouldn't derail you from your path, instead you should keep a cool head, and focus on the bigger picture. You should never let you small time losses fester your big picture.
Urgency and Desperation
Even if you are the most optimistic person on face of earth, and confident, you wont taste success if you are not compelling when it comes to take an action. SO you have to focus on fulfilling your deadlines. Make sure you achieve your goals in given time to push yourself forward.
Transform Your Effort into a Crusade
The only way to motivate your people is to reinforce your resolve into a crusade. You have to make sure you are aligning the personal interest of your followers/employees with it. In order for this to work, make sure you have something worth fighting for.
Know Your Enemy
You need to pay less attention to the whole competition, and focus on their leadership. Remember, a lion can lead a herd of sheep to glory, while a sheep can lead a pride of lions to their doom. Study the, and don't let your beliefs project into him. Try to observe they think and move.
Plan a Surprise Attack
We don't mean shock and awe, but you better take your time and prepare a campaign. You need to
Product Details
Author: MD White
File Size: 1813 KB
Print Length: 136 pages
Simultaneous Device Usage: Unlimited
Publisher: Hopeful Media Solutions, LLC. (September 29, 2017)
Publication Date: September 29, 2017
Language: English
ASIN: B0762XJHCN
Text-to-Speech: Enabled
X-Ray: Not Enabled
Word Wise: Enabled
Lending: Not Enabled
Enhanced Typesetting: Not Enabled
Amazon Best Sellers Rank: #1,577 Paid in Kindle Store