Wanting to improve your relationship with others? Having trouble understanding people? Look no further than People 101, a non-fiction book providing you with complete information to understand people's behavioral characteristics and traits. Whether you want to save your struggling relationship or are looking for ways to improve your customer relationship, People 101 covers all aspects of human nature and offers a comprehensive guide to improve your connection with others.
The author J D Evanston describes human nature and behavior in detail so everyone can understand how to mend a broken relationship. If you're not good in your social life, you should give this book a try and I am pretty sure that you won't regret later.
Here're a few lines taken from the Amazon product description of the book:
''Life's challenge is to unlock the potential of each person's destiny in all areas of life; personally, socially, and professionally. Everyone has unique, inherent abilities far exceeding their self-limiting beliefs. If you are like most, you simply need personal direction; someone to reveal obscure knowledge, while showing the way to your desired destination. The good news is – a detailed map with clear directions exists within People 101 to illuminate the path to navigate life and its complex relationships.''
The biggest reason behind a broken relationship is the inability to solve things politely, which is the key to solving a problem. But it has been observed that many people don't pay much attention to their behavioral approach and this behavior leads to poor social relationships, which is as dangerous for your health as drug addiction.  
How you look at People 101? Have something interesting to say about this book? Please feel free and don't hesitate to let us know your valuable thoughts in the comments box below.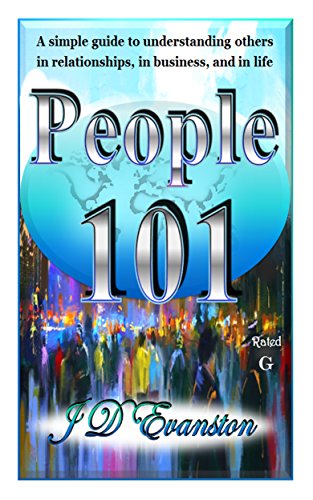 Product Details
Author: Jacques Daveon Evanston
Facebook Profile: Jacques Daveon Evanston
Website: JDEvanston.com
File Size: 1851 KB
Print Length: 218 pages
Publication Date: December 1, 2017
Language: English
ASIN: B077W12GPB
Text-to-Speech: Enabled
X-Ray: Not Enabled
Word Wise: Enabled
Lending: Not Enabled
Screen Reader: Supported
Enhanced Typesetting: Enabled
Amazon Best Sellers Rank: #1,052,972 Paid in Kindle Store