A Girl And A Boy – the latest book by Stephen A. Adams – tells a story of two youngsters, Susan and Stephen. Susan is the more outgoing and adventurous. If they are going to get into trouble, it will usually be Susan who gets them there. However, if they are going to have fun, Susan will be the ringleader, and the first one to arrive.Stephen is a year older, and would like to think that he is the more responsible. He certainly starts out feeling protective of his friend. However, he soon realises she can take care of herself. One thing is certain, their friendship will lead into a relationship.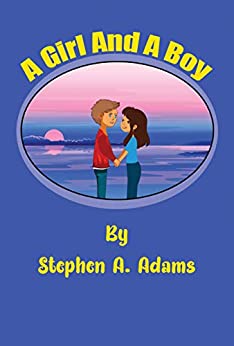 The story begins with Susan aged 5 in hospital, she has possible concussion, and she barges into a room in which lies a quarantined boy, Stephen. The book ends with her contemplating her future with him when she is 18. There are various adventures and mysteries involved within these years, which excite and encourage the lives of this young pair. Included are theft, kidnapping, violence, and murder. All of which bring the two closer together.
The manuscript has a number of instances where the two principals take the story back and forth in time. Sometimes remembering events from many years ago, sometimes asking 'I wonder if in the future…..'
As the story covers Susan and Stephen from the ages of 5 to 18, it can hold the interest of, and excite, all ages. Middle graders can identify with the younger chapters, while wanting, of course, to read the older material. Young Adult readers identify with the later adventures, while remembering how they were in the earlier pieces. And as for adults, they can recall how their children acted during it all, and also enjoy the chapters that involve places like Royal Albert Hall, Kings Road Chelsea, and a hallucinatory sequence when Stephen talks to Jimi Hendrix, Janis Joplin, Jim Morrison, Keith Moon and Jim Belushi.
It is altogether an enjoyable ride for the whole family.
Product Details
Author: Stephen A. Adams
File Size: 1921 KB
Print Length: 495 pages
Simultaneous Device Usage: Unlimited
Publication Date: October 25, 2019
Language: English
ASIN: B07ZMFT2K4
Text-to-Speech: Enabled
X-Ray: Not Enabled
Word Wise: Enabled
Lending: Not Enabled
Screen Reader: Supported
Enhanced Typesetting: Enabled