Turning Pain into Strength tells the true story of a once spirited wife and mother, whose life changed dramatically when she tripped and fell on a step in her basement.
Guided by profit-driven medical experts into a life of dark addiction, surgical disasters, and relentless chronic pain, Michelle's life deteriorated without any warning. She fast became exposed to the deeply embedded corruption of the American healthcare system and was brutally forced into a life of new challenges. This book is about her journey through it all; the inspiring highs, torturous lows, and how she escaped the reigns of medical addiction. Through learning about the medical field and the benefits of good nutrition, combined with her knowledge gained from industry-leading rehabilitation programs, Michelle is well-equipped to manage the effects of chronic pain without the need for regular high doses of pharmaceutical drugs.
It has taken Michelle over a decade to build the knowledge she possesses now; knowledge she believes to be invaluable to every human being on this planet, regardless of health.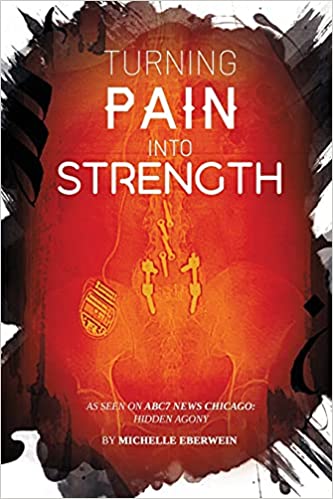 Product Details
Author : Michelle Eberwein
Publisher ‏ : ‎ Michelle Eberwein (June 27, 2021)
Language ‏ : ‎ English
Paperback ‏ : ‎ 151 pages
ISBN-10 ‏ : ‎ 1737090619
ISBN-13 ‏ : ‎ 978-1737090618
Item Weight ‏ : ‎ 7.5 ounces
Dimensions ‏ : ‎ 6 x 0.35 x 9 inches
Best Sellers Rank: #1,412,096 in Books